The women behind Cungelella Art
Easy | Read time 3-5 minutes
I recently visited the NT for the first time and was blown away by the contrast of colours and the feeling of the land. That bright blue sky against the red earth, with contrast of green spinifex and trees. It makes you feel like you're in a painting, that I can see why so many artists are drawn to the landscape and inspired by the energy it holds. 
When I came across Cungelella Art on instagram I feel in love with their use of pastels and colours (lots of lovely pink hues) with their traditional indigenous style that I wanted to find out more about them, and their inspirations.  
Cungelella Art was founded in 2019 by Glenda McCulloch as a vehicle for sharing her culture through modern Aboriginal art. It soon expanded as a collaboration to include Glenda's sisters - Jaunita, Dale and Cheryl. Not only was the opportunity for business expansion presented as the demand for their art increased - the sisters were able to create a venture that allowed them to work closely together and spend quality time together as a family creating a legacy through their artwork.
"WE ARE ARTISTS. WE ARE KALKADOON WOMEN. WE ARE MOTHERS, SISTERS, PARTNERS, BUSINESS OWNERS. WE ARE TELLING THE STORIES OF OUR KALKATUNGU HOMELANDS AND SHARING THE COLOURS, TEXTURES AND HISTORY OF OUR HOME. WE ARE CUNGELELLA ART."
I was lucky enough to get in contact with Glenda and ask her a few questions about Cungelella Art, and her sisters…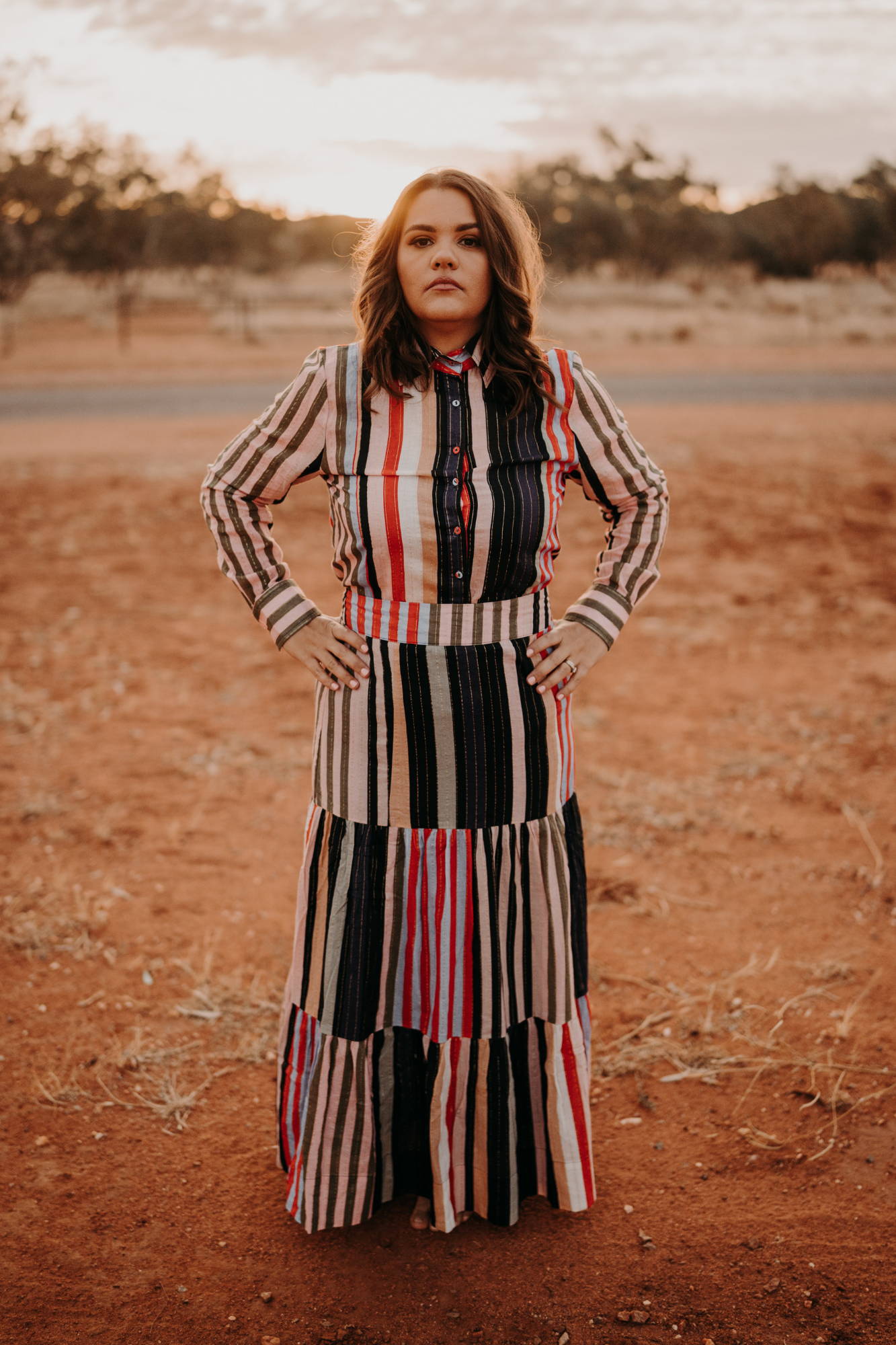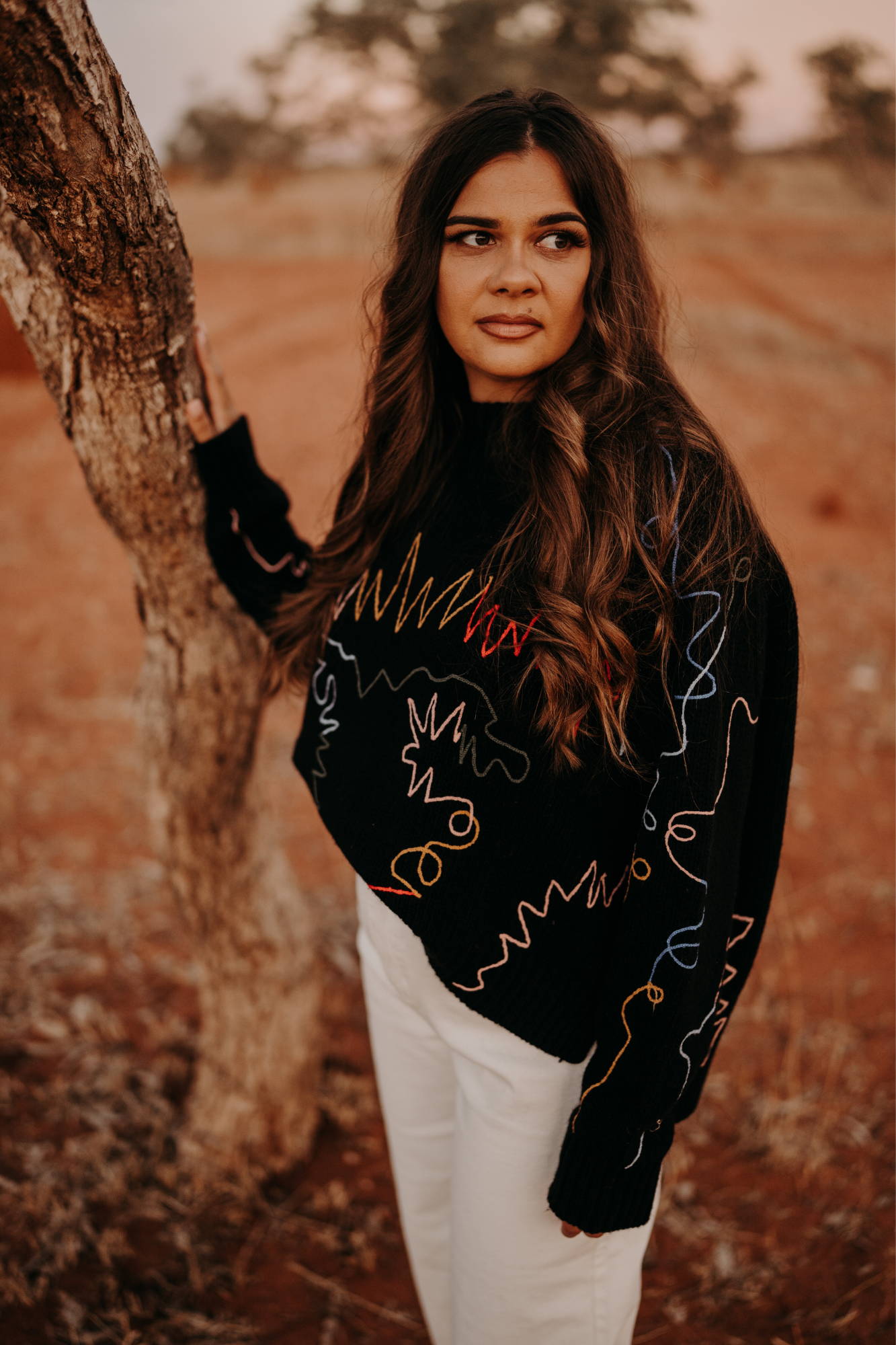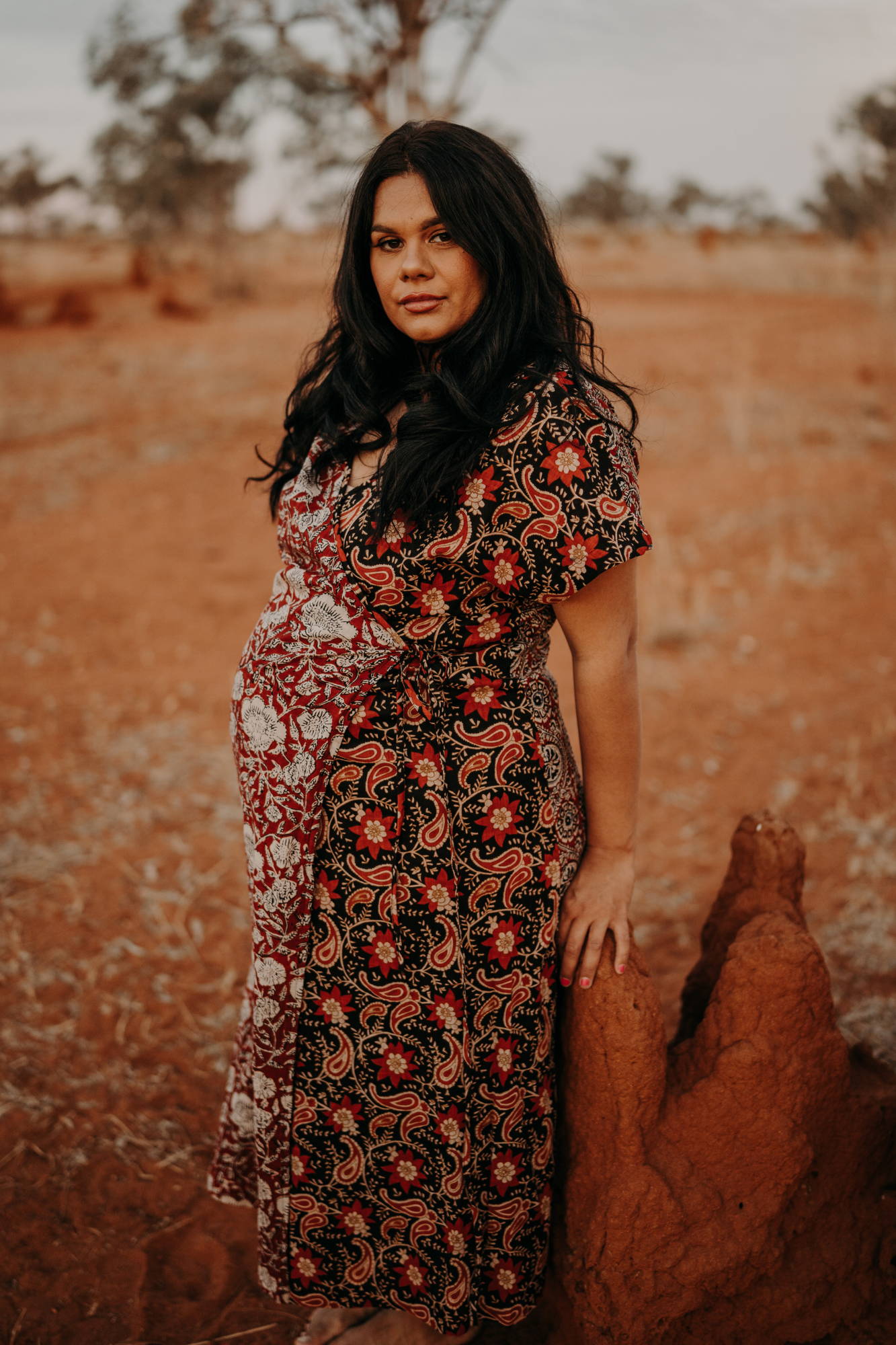 Firstly, can you please tell the Boom community a little about yourselves?
Firstly we are from a family of 9 (6 girls and 3 boys) born and bred in Mount Isa. We moved away a bit as our dad was like a Gypsie, and didn't like staying still for long, but we always ended up back in Mount Isa and are now raising our children here.
What was it like growing up learning traditions from your elders? Did you embrace them as a child? 
We spent every holiday and most weekends out bush with our uncles and aunties, and at the time we just thought we were having fun and spending time together. It wasn't until we were older that we now appreciate and know the significance of learning our culture.
Was there any particular art form that inspired you the most when growing up? 
I remember always having painted artefacts around the house, that were painted by mum and dad.
What made you take your art to another level and start selling it, or did it happen organically?
It happened organically i think. Our local coffee shop had local art on her walls so we asked if we could display our art in there.
I love how you use a lot of pretty pastels in your work. Is this colour palette inspired by anything in particular, or do you just love those colours?
The pastel pinks we use are from our beautiful sunsets we get out here. And a lot of the rock formations out here has pink, clays and nice pastel colours through them. Also the colour of the earth comes in all shades ranging from deep reds through to pinks and light browns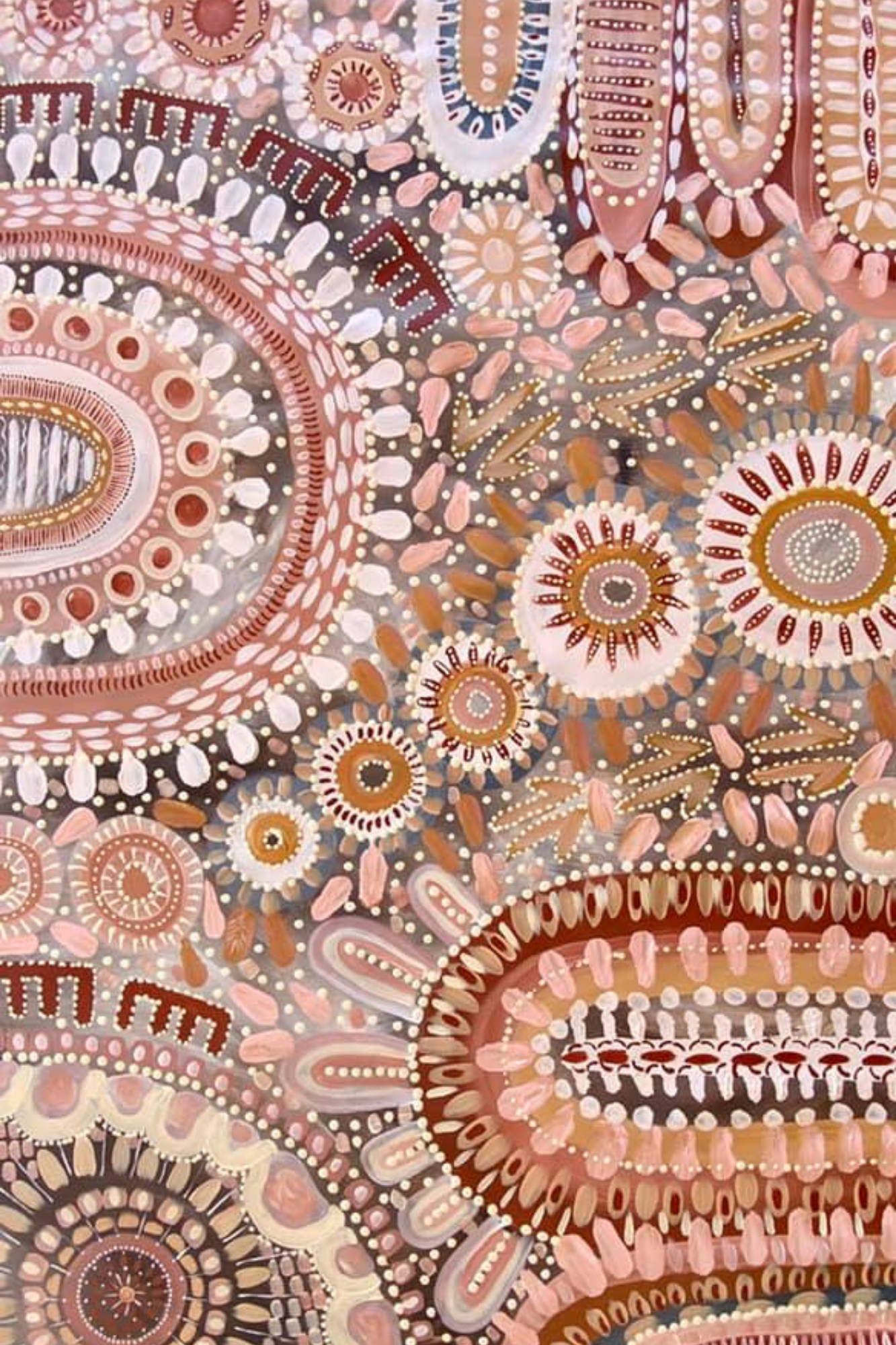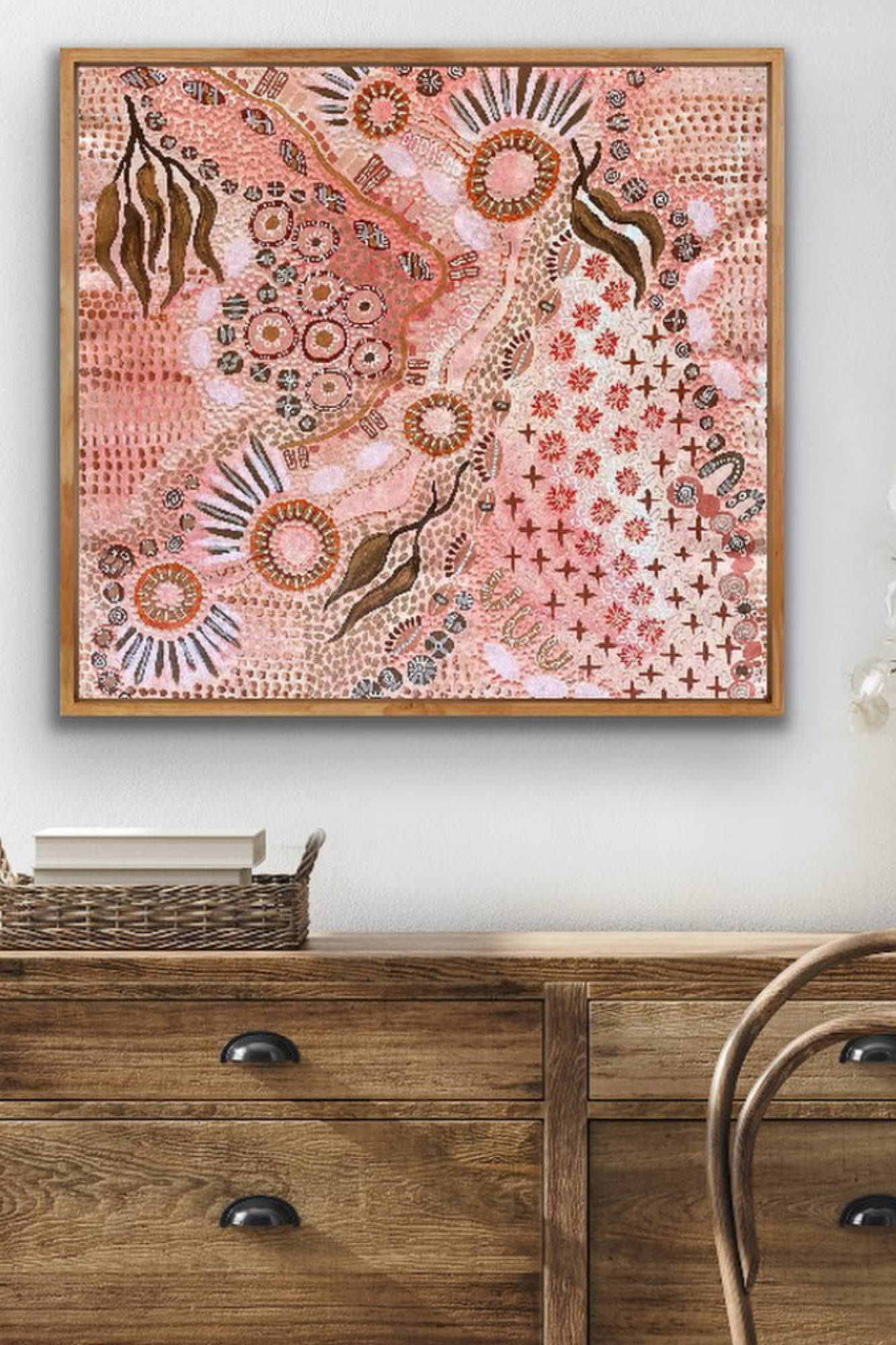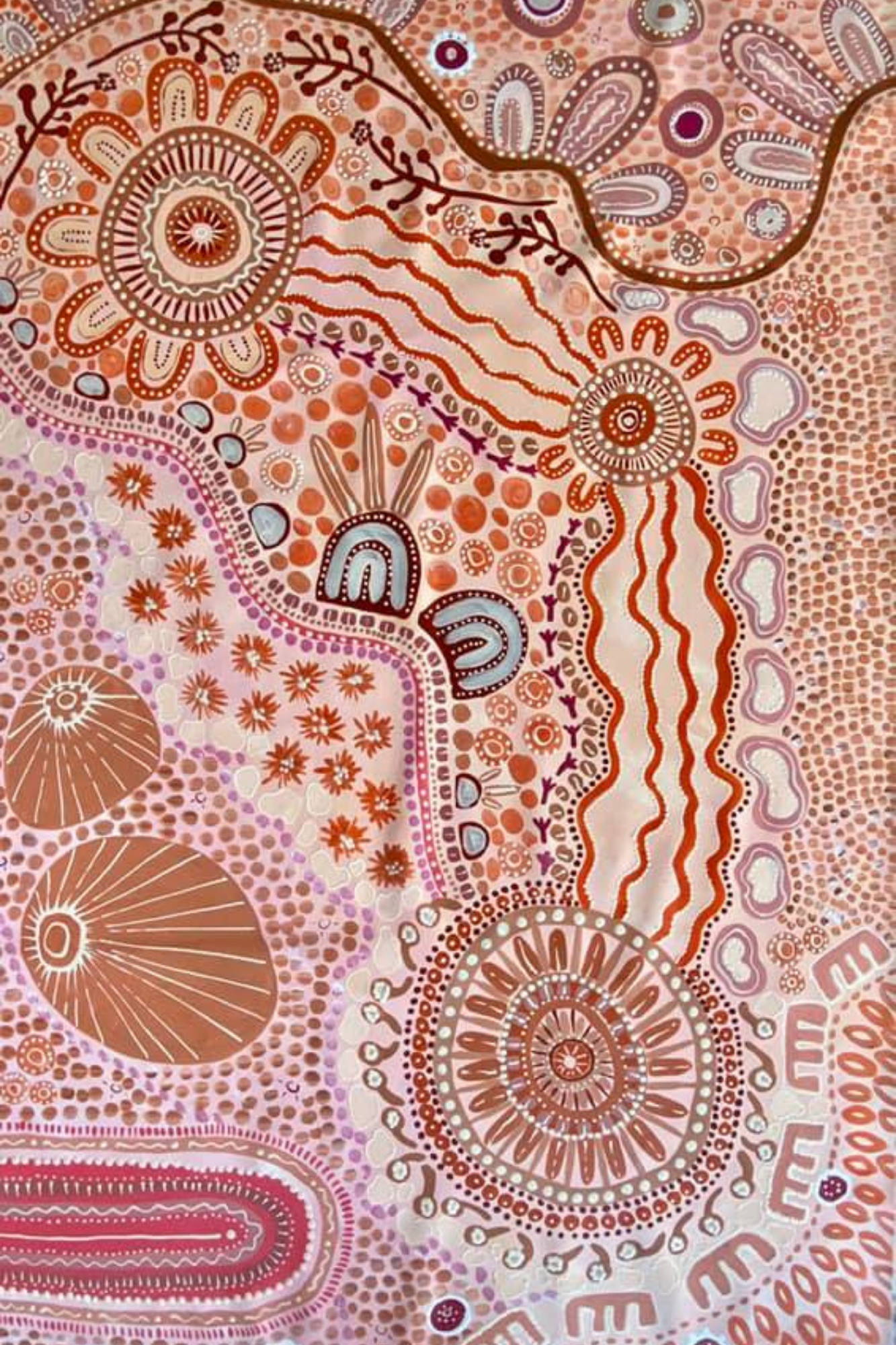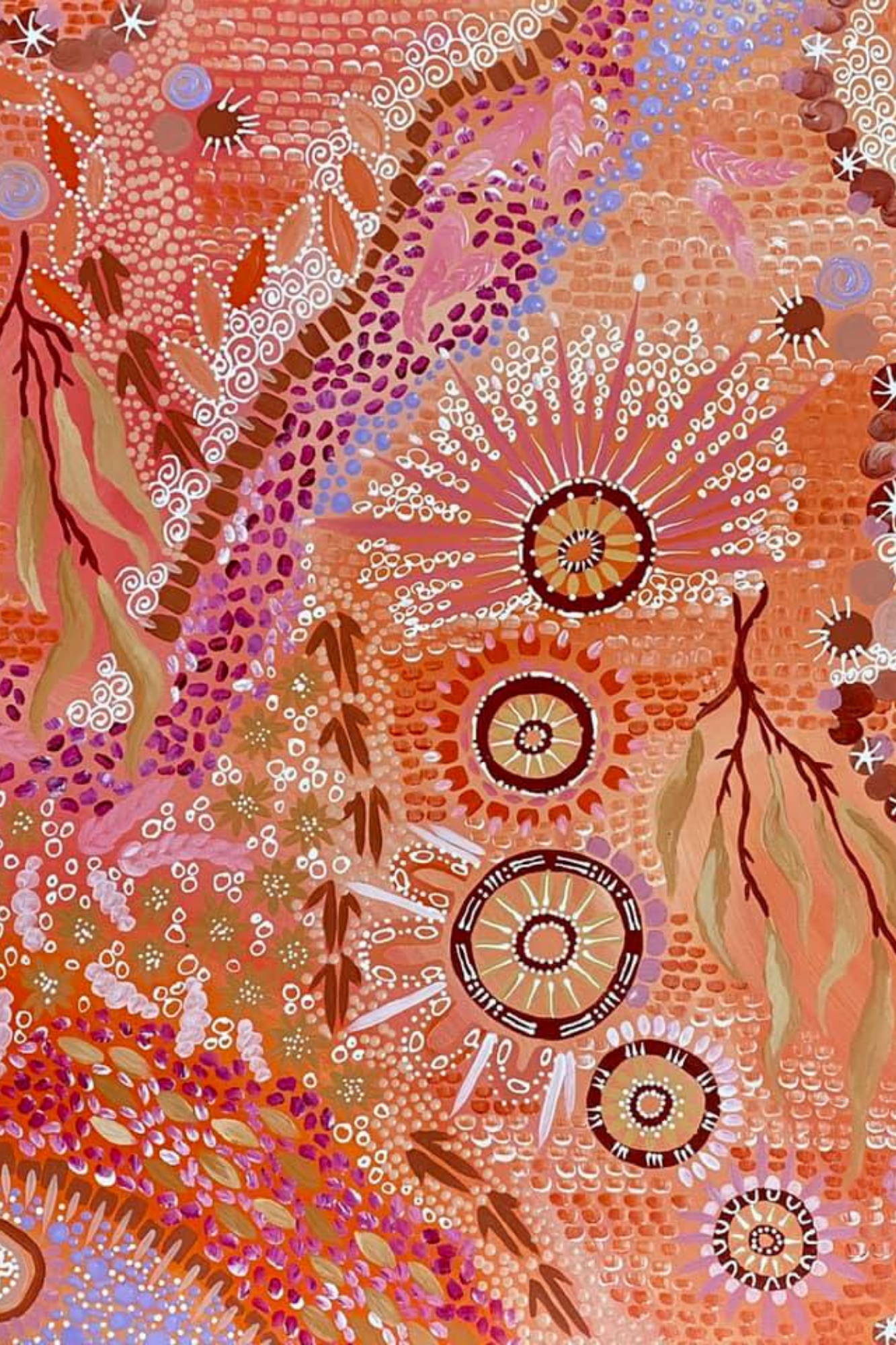 Do you have a favourite material of the land that you love to use in your art? 
We haven't yet, but our mum and dad used ochre, which is when they grind up a certain rock, which is in abundance out here, and it creates a powder which you can add water to, to make it into a paint that they can then paint with. All the rock art around our country has been painted with ochre. 
Is there an aspect of aboriginal culture, be it dance, the arts, gardening or cooking, that you love the most?
Our favourite part would be the arts, but we do love to pack the car and go anywhere out bush and cook potatoes and rib bones in the coals, and cabbage stew in the camp oven, for our family of 20+.
If the world could adopt one aspect of aboriginal culture, what would you love that to be and why?
It would be to adopt the way our indigenous people look after their land by only taking what you need when it's tucker time and the sharing. We are a sharing culture.
Our winter collection is called 'Kindness'…….
How would you define kindness, or what's your interpretation of kindness?
Kindness is our intentional behaviour in the way to act and treat those around us.
Is there a particular moment of kindness in your life - given, received or even observed - that stands out to you?
We can't pin point one kind act because even sometimes the smallest act of kindness has a big impact on a person.
And lastly, what does it mean to live a big, beautiful life?
A big beautiful life to us is living on our land where our children have the space to explore and grow into their own as an individual. For us family is everything and comes first.
You can follow Cungelella Art on INSTAGRAM | FACEBOOK | WEBSITE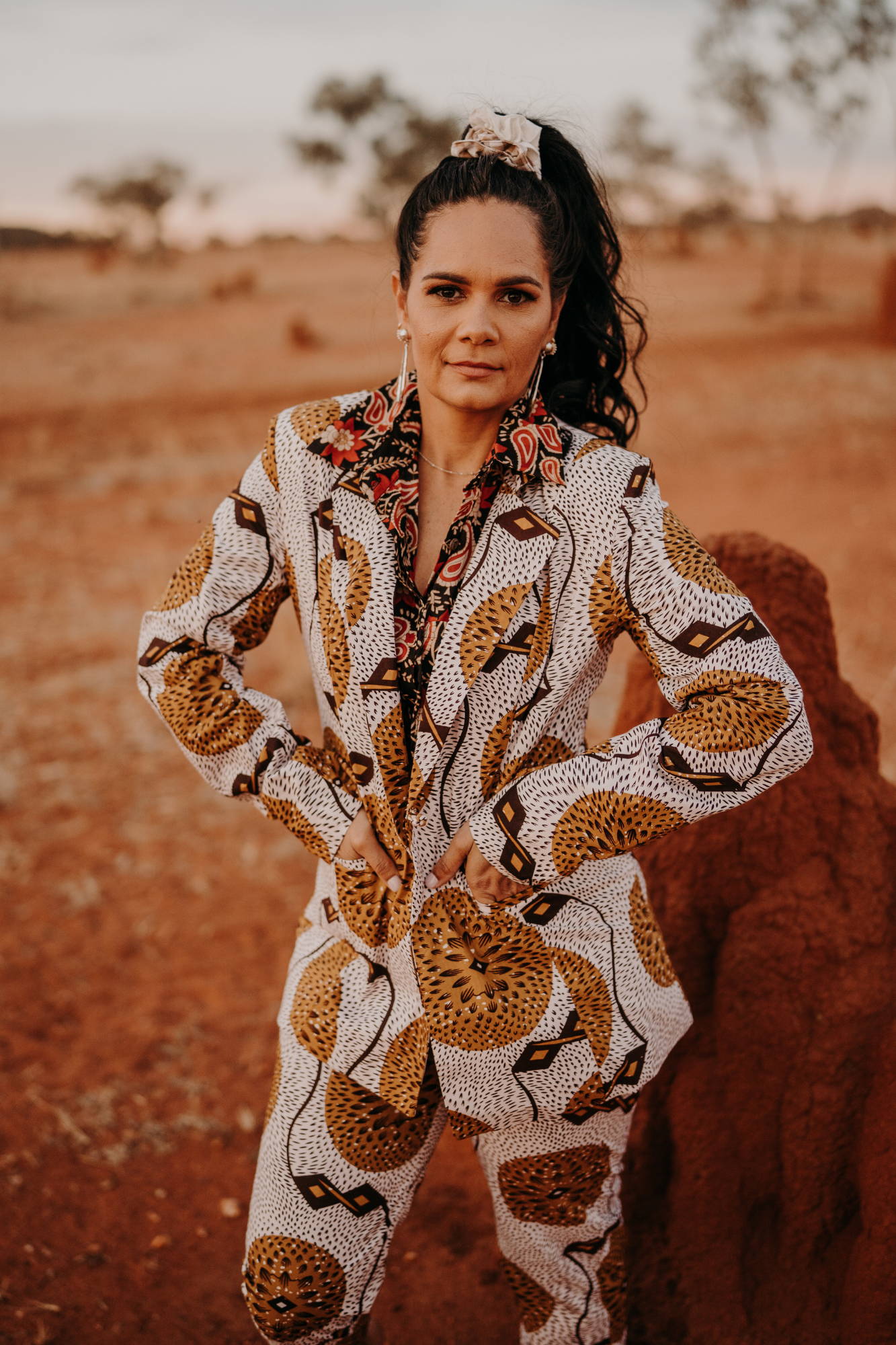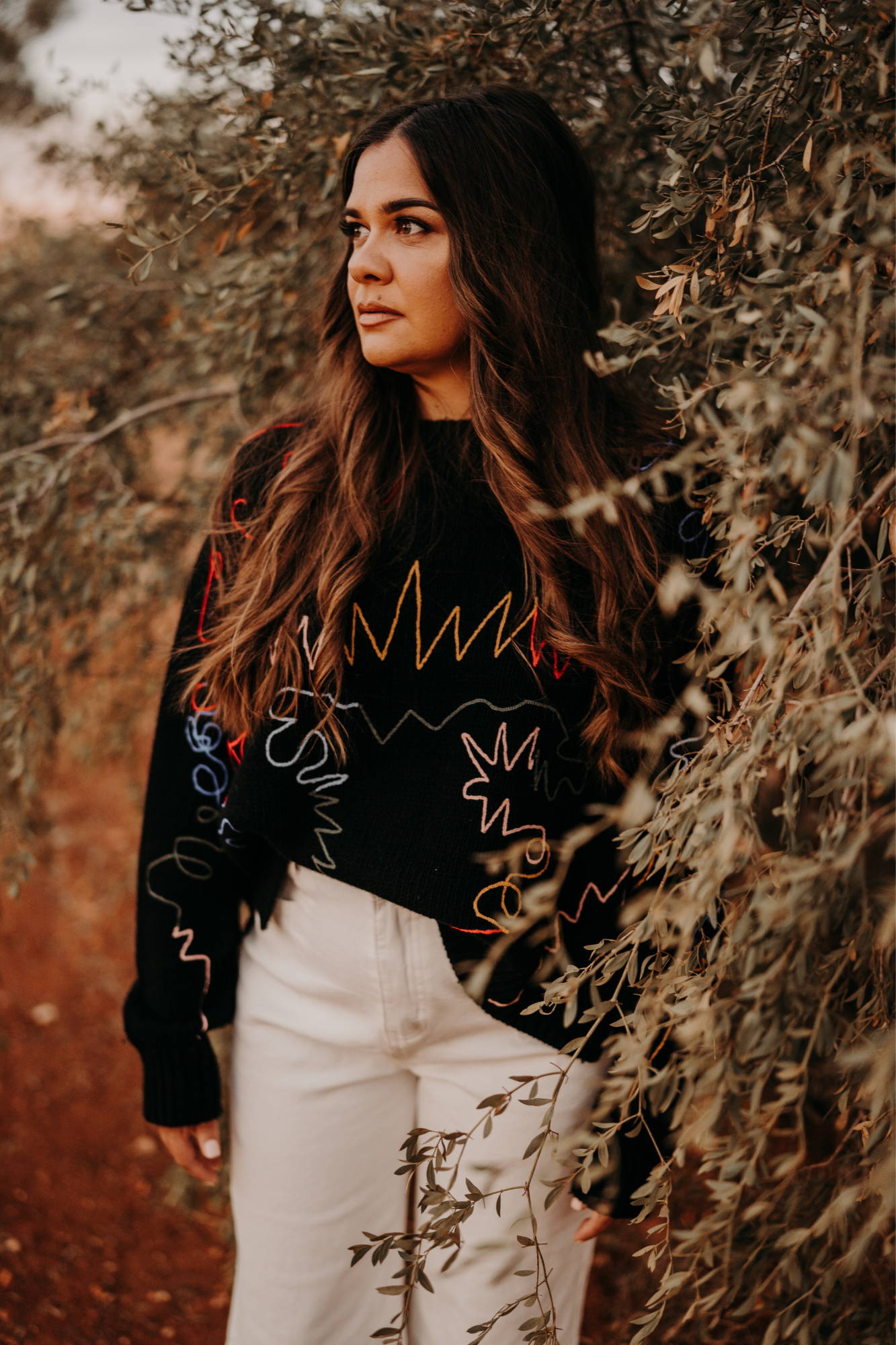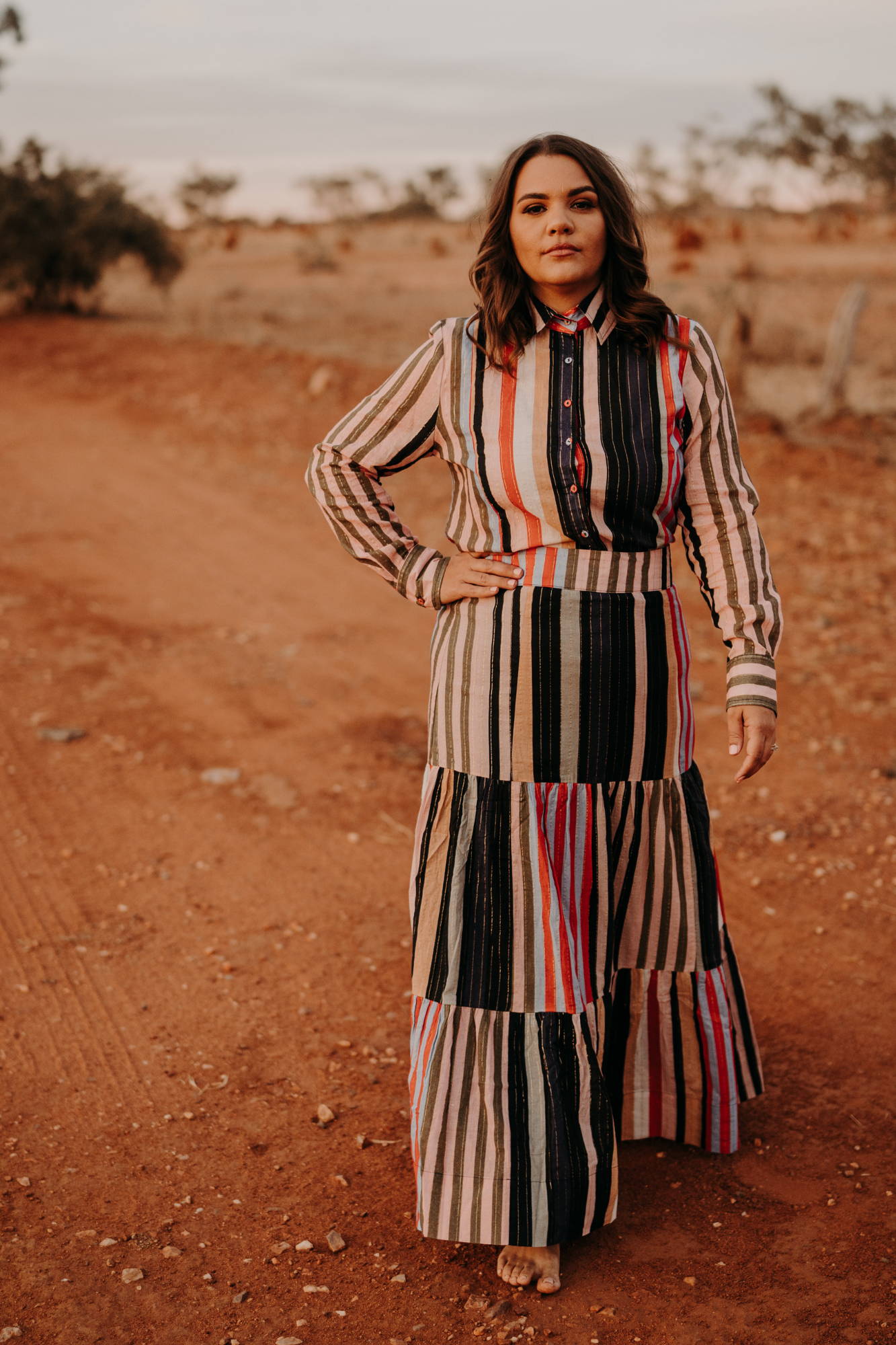 Let's take a look at what pieces the sisters have chosen as their Boom Shankar picks... from left to right.
Jaunita Doyle looks fabulous in our funky African inspired Williamsburg Tribeca Jacket with the matching Williamsburg Tribeca Pants, and we love that she's contrasted the suit with our Queens Metropolitan Shirt
Cheryl Perez is wearing our super fun and colourful, embroided Black Squiggle Jumper with her own pants, and looking very cute. Being lambswool it's a perfect jumper for winter, and especially NT wear it can be very very cold at night. 
How gorgeous does Glenda McCulloch look in this matching Manhattan set! We love styling the same prints/fabrics, so we were pretty stoked when Glenda asked to style our Manhattan Soho Shirt with the matching Manhattan Soho Skirt. We're in love with the glimmering lurex striped cotton of this collection!
Dale Bruce looks stunning in our City Mix Wrap Dress, with those great contrasting mixes of all our block print fabrics from this winter. This dress is such a clever design which can be worn two ways, and with the wrap around aspect, it's adjustable no matter how big that tummy grows.