5 Great Ways To Style Boom Shankar For The Classroom
Whoever said dressing for work needs to be boring! Or should I say, dull and conservative. Wouldn't it be nicer to work in a place filled with colour and fun. The simple things that can change energies, bring smiles to faces, create positivity, and this can all start with just what you're wearing. So I thought it would be fun to start exploring some new possibilities for BOOM in your workplace, and to kick off I'm going back to school. 
Teachers are amazing people. We all have them in our lives for a stage, a fairly long stage, and as children we can bring them absolute joy, or sometimes absolute hell (I know I was a little mischievious at school, sorry teachers) I often meet customers who are teachers when I'm in our Hastings Street store, and they alway comment how much they LOVE wearing Boom Shankar to work. The colourful quirky styles and beautiful traditional block print fabrics, made ethically and designed in Australia, that even the kids really love seeing the playful creations they wear.
So I thought I'd ask a local teacher (and BOOM supporter) to come have a play in the store and show me her favourite pieces of BOOM she loves to wear to work. Thanks Elise! ☺️
But before Elise takes us on a tour of her favourite Boom Shankar pieces and explore the possibilities of new classroom staples, , I wanted to do what I love to do, and introduce her to you all…
Firstly, can you please tell the Boom community a little about yourself?

Hi, my name is Elise. I'm originally from Tasmania but moved to the Sunshine Coast about 6 years ago with my husband and two boys, Archie and Gus (my beautiful handfuls) and we love it. I'm an art teacher at St Andrews in Peregian, teaching grades prep to 7. My proper title is a primary specialist art teacher.
What made you want to become a teacher?
I worked in marketing but it felt too busy for my lifestyle. I really enjoyed training others so thought it was just a natural step to go into teaching, and primary school children are amazing as they have no filters and just say it as it is. 
I've been teaching since 2010 and I just love seeing the kids every day. They're so creative, and have no cap, so their art just comes out naturally. I love seeing the look on their faces when they've created something as they're so proud of everything they do.
What's the most gratifying thing about your job?
When you have a little child who says they can't do something, or draw a particular thing, but you talk them through the steps and they realise they can do it, they get this amazing sense of achievement. That big smile they give you is definitely the most gratifying part. 
What does it mean to you to live a big beautiful life?
Lots of time with family. Lots of play and enjoying what you do. Happiness. Love. Laughter. All the good things!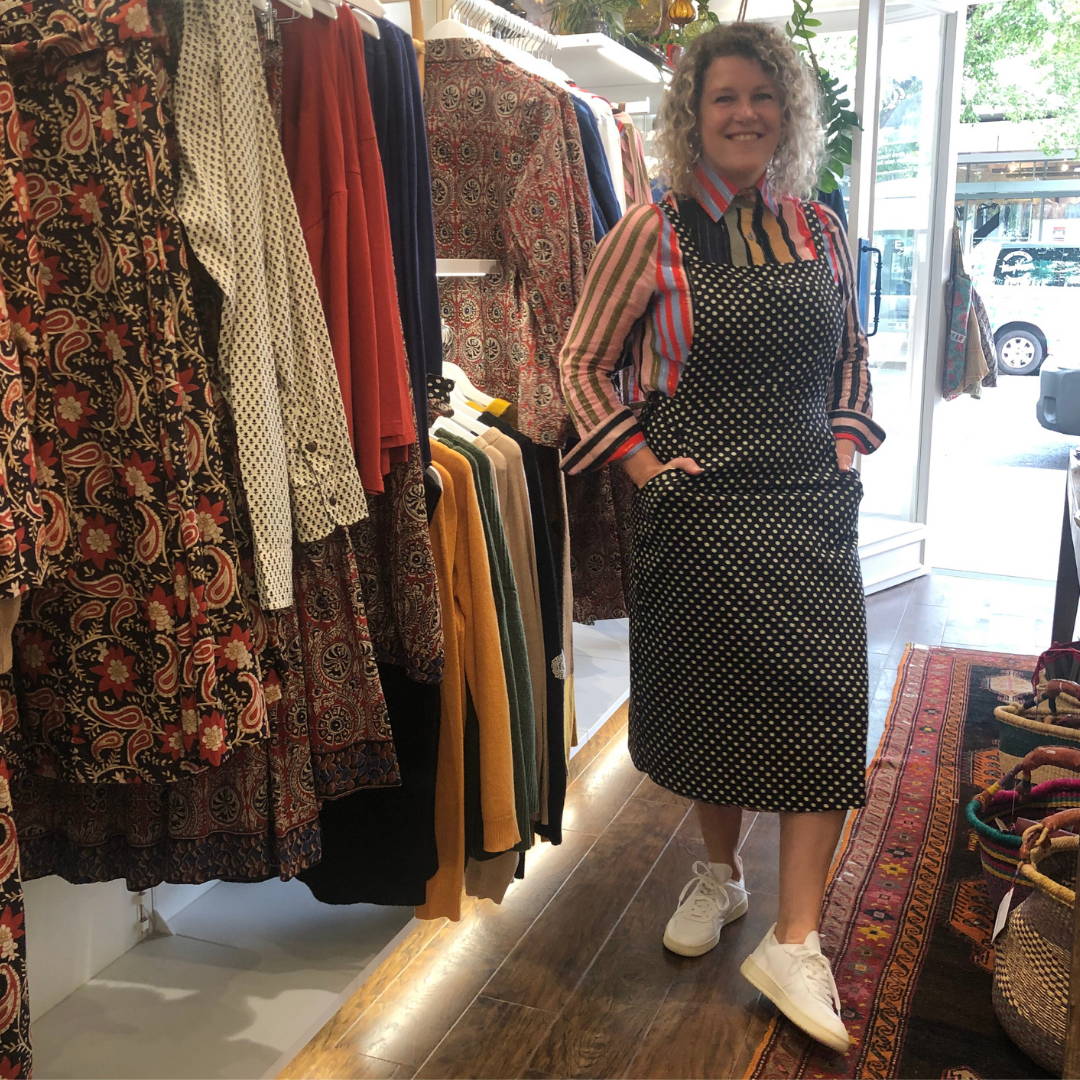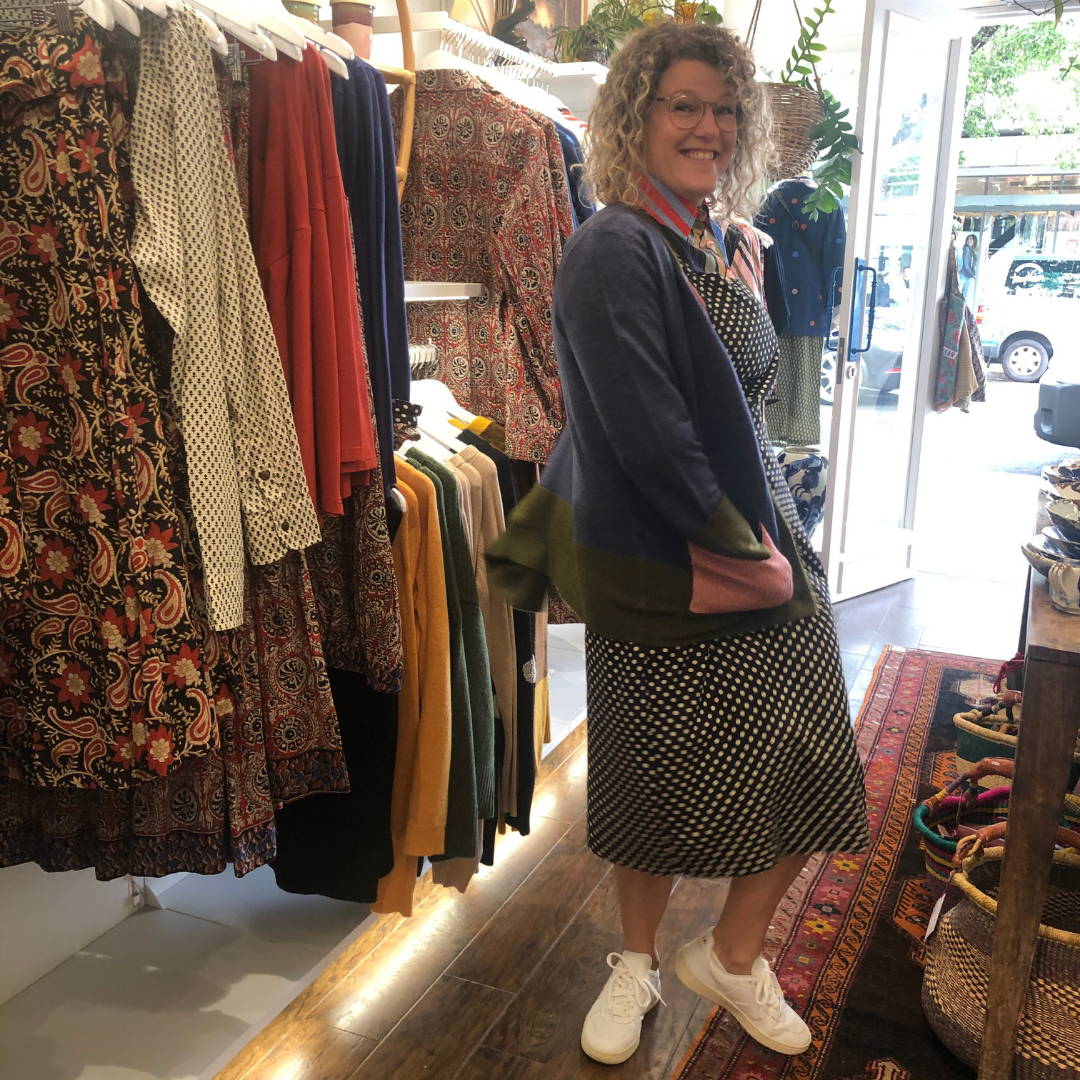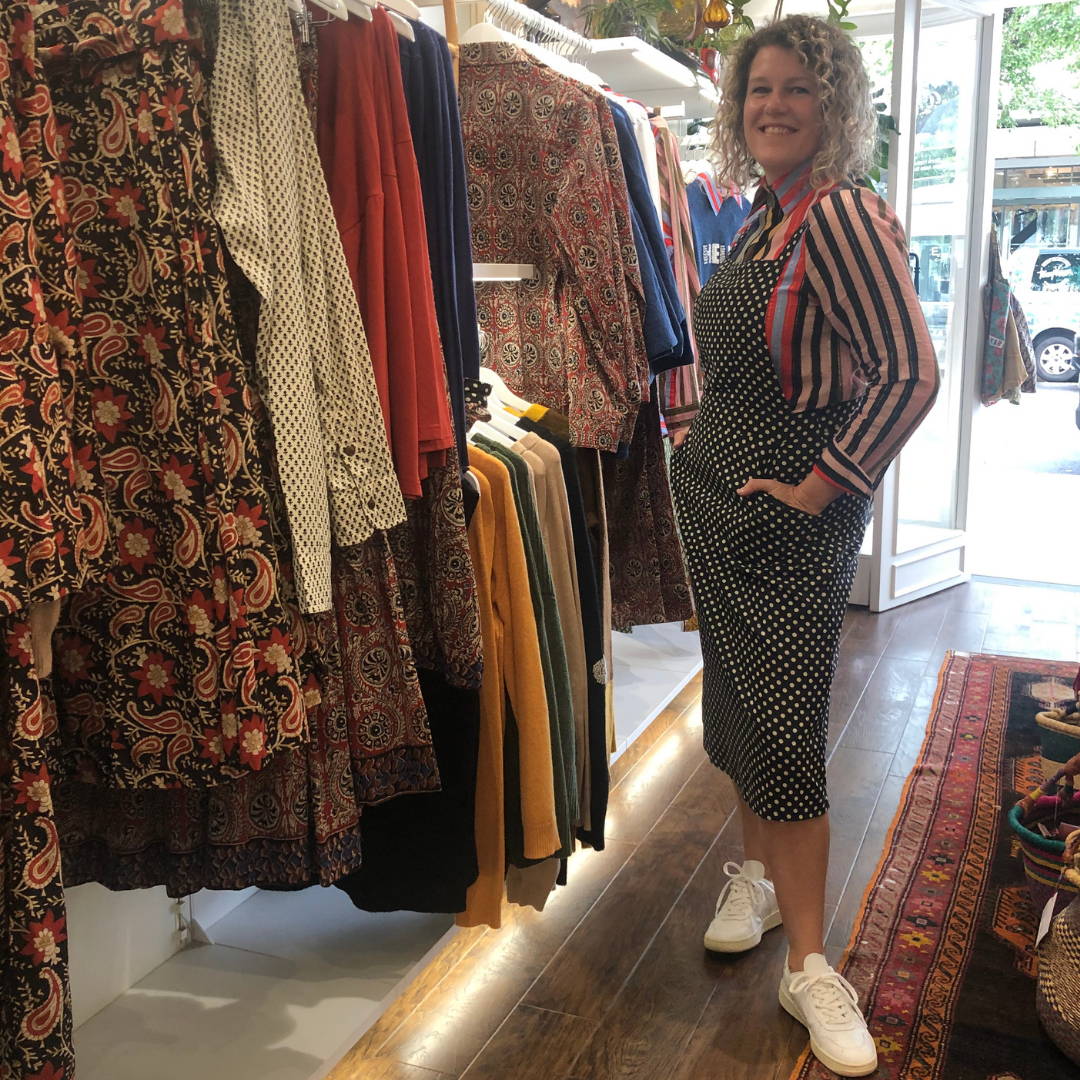 First off our BOOM classroom looks Elise has chosen a colourful mix and match look (above) with the Soho Shirt in Manhattan in a soft cotton fabric with lurex stripes, worn under the reversible cotton block print Berty Tunic in Windsor, and paired with the lovely soft Poet Cardi in Navy tri colour. 
"I love this tunic! The shape of it. The reversible nature. It's two dresses in one! The material is lovely and feels really durable so it would last a long time. The length of the tunic is perfect too as you can wear it with tights in winter and bare legs in summer and it's still classroom friendly. The striped Manhattan top underneath is fun and adds that little bit of colour and shimmer, and layered with the oh so soft Poet cardigan it's a fun easy outfit the kids will love as much as me."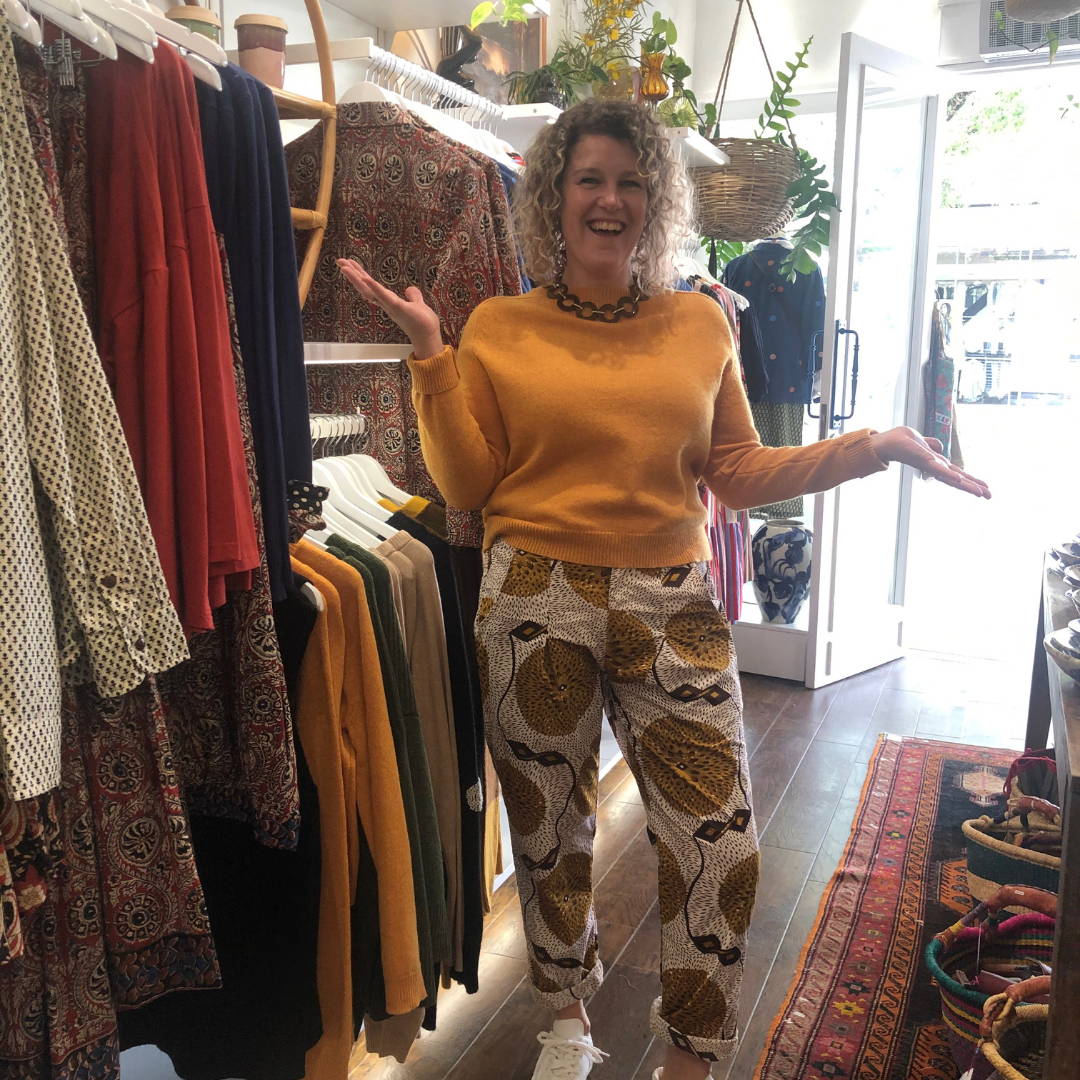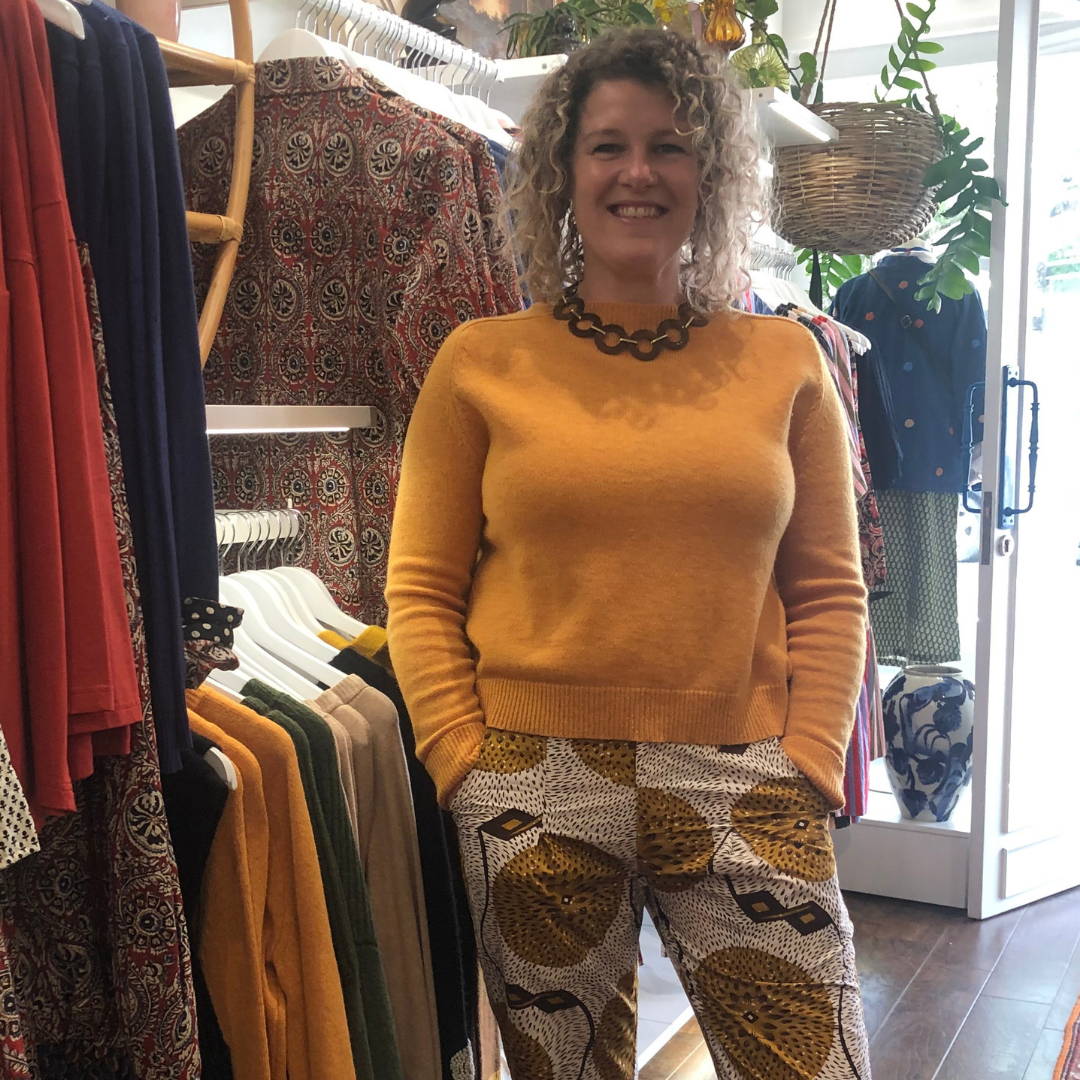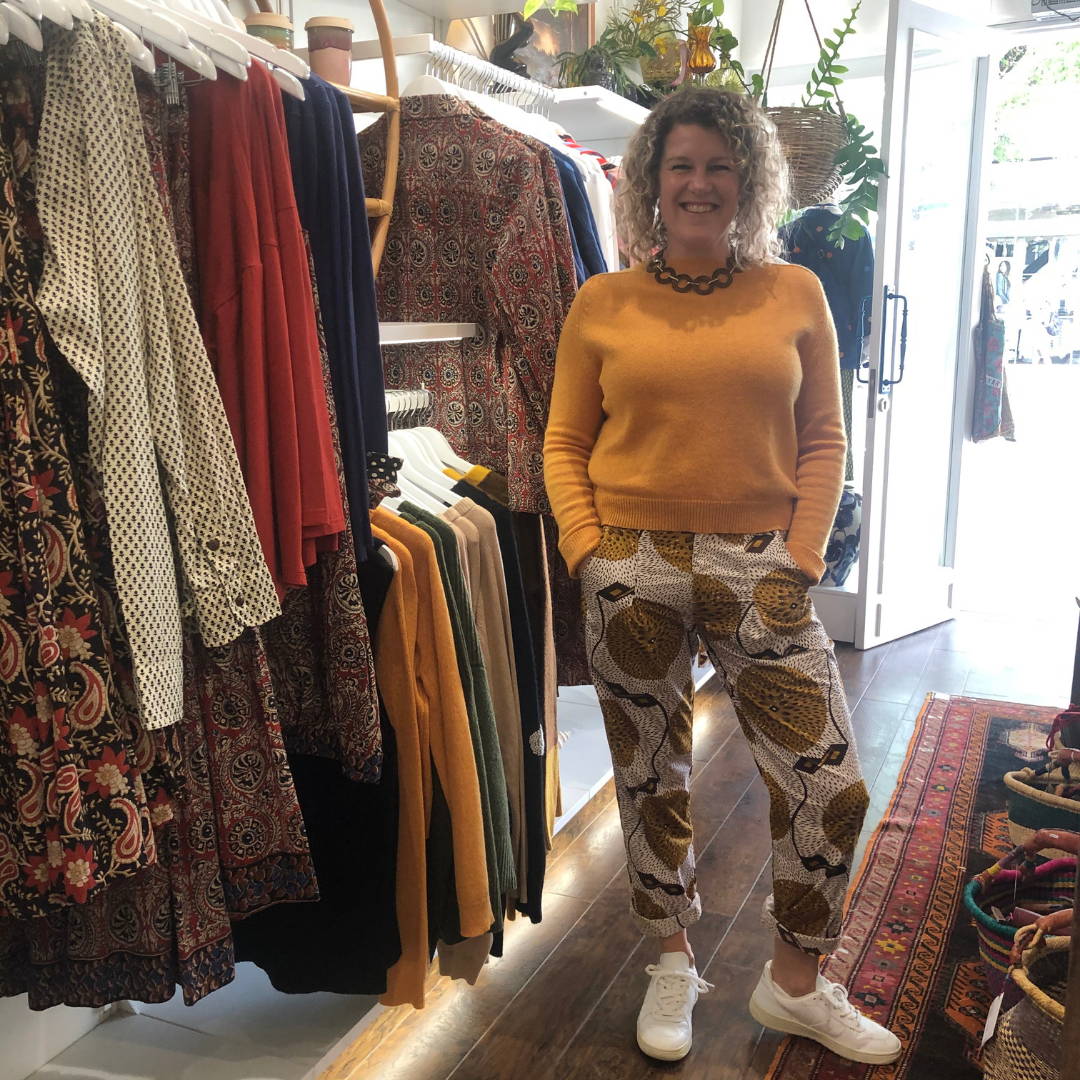 Next off the rank, Elise has chosen more of a classic look for the classroom (above) but still with a hint of fun (those pants! 😍) with the warm and cosy merino wool District Jumper in Mustard, worn with the Tribeca Pants in Williamsburg, our African style cotton fabric.
"Well mustard has to be one of my favourite colours of all time. I just love this cosy jumper and how it's cropped at the bottom so it sits perfectly with pants. And these pants!!!  Oh my, I love these lion pants as they're fierce, like lions, and so comfortable to wear paired with sneakers. Another great classroom look... and the kids will love these pants!"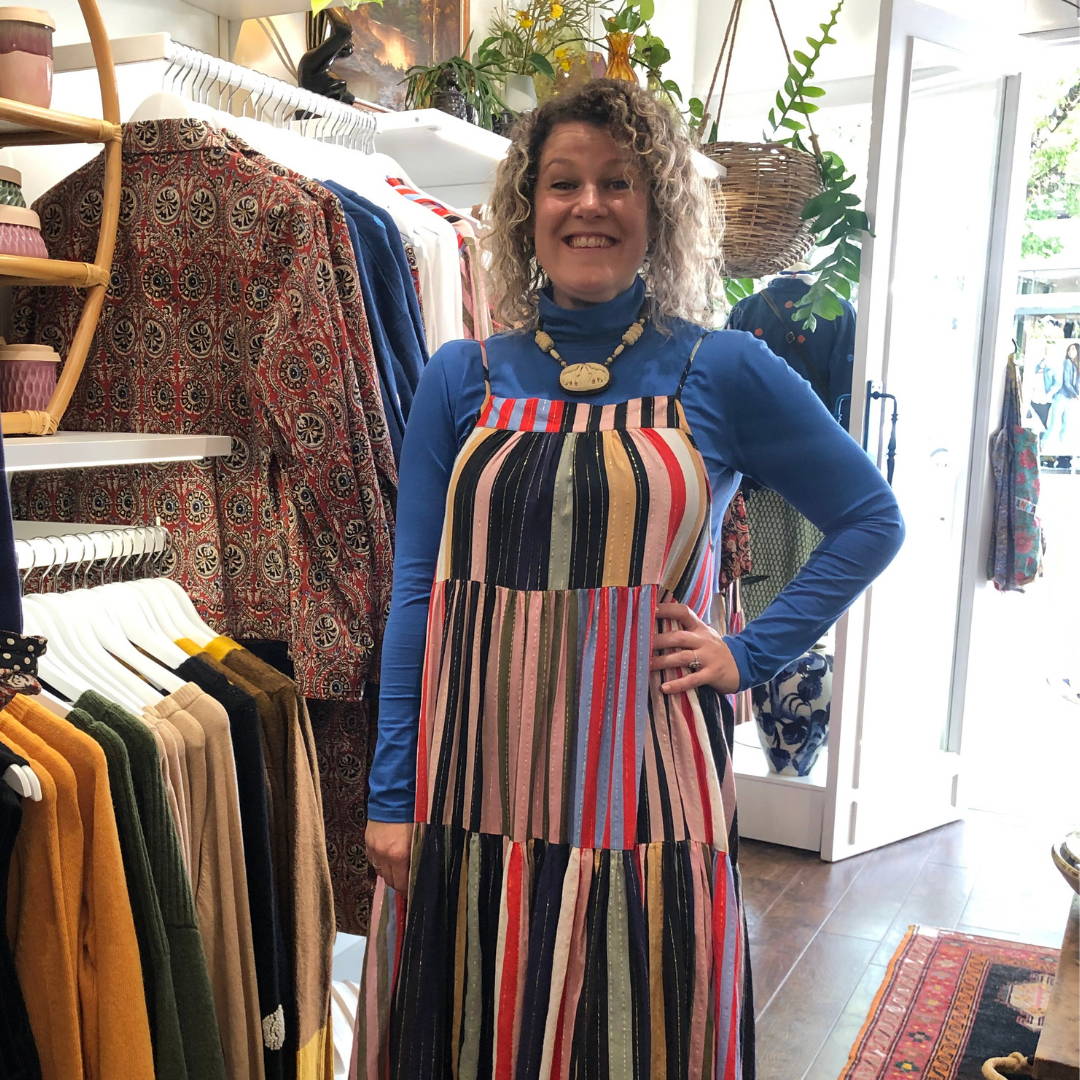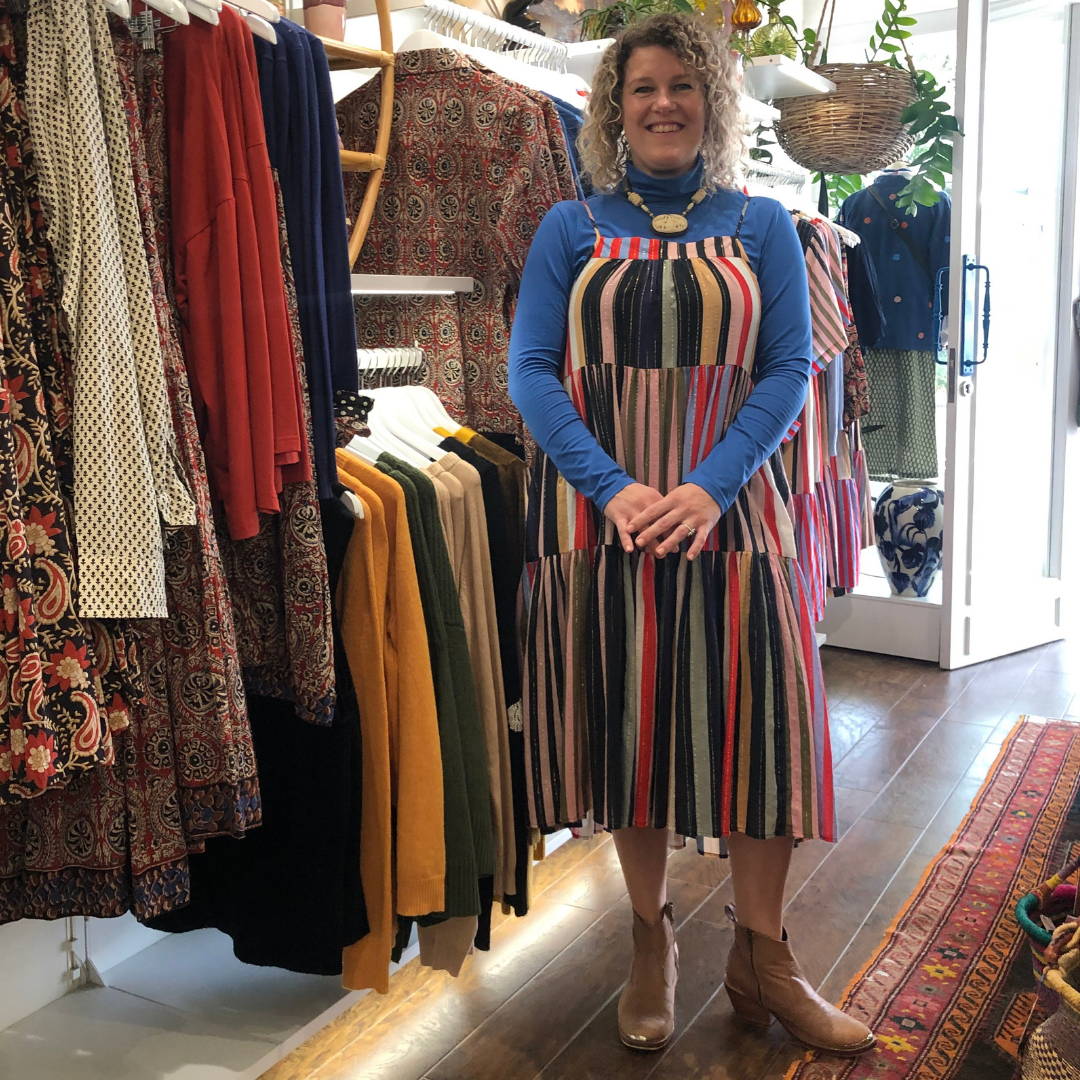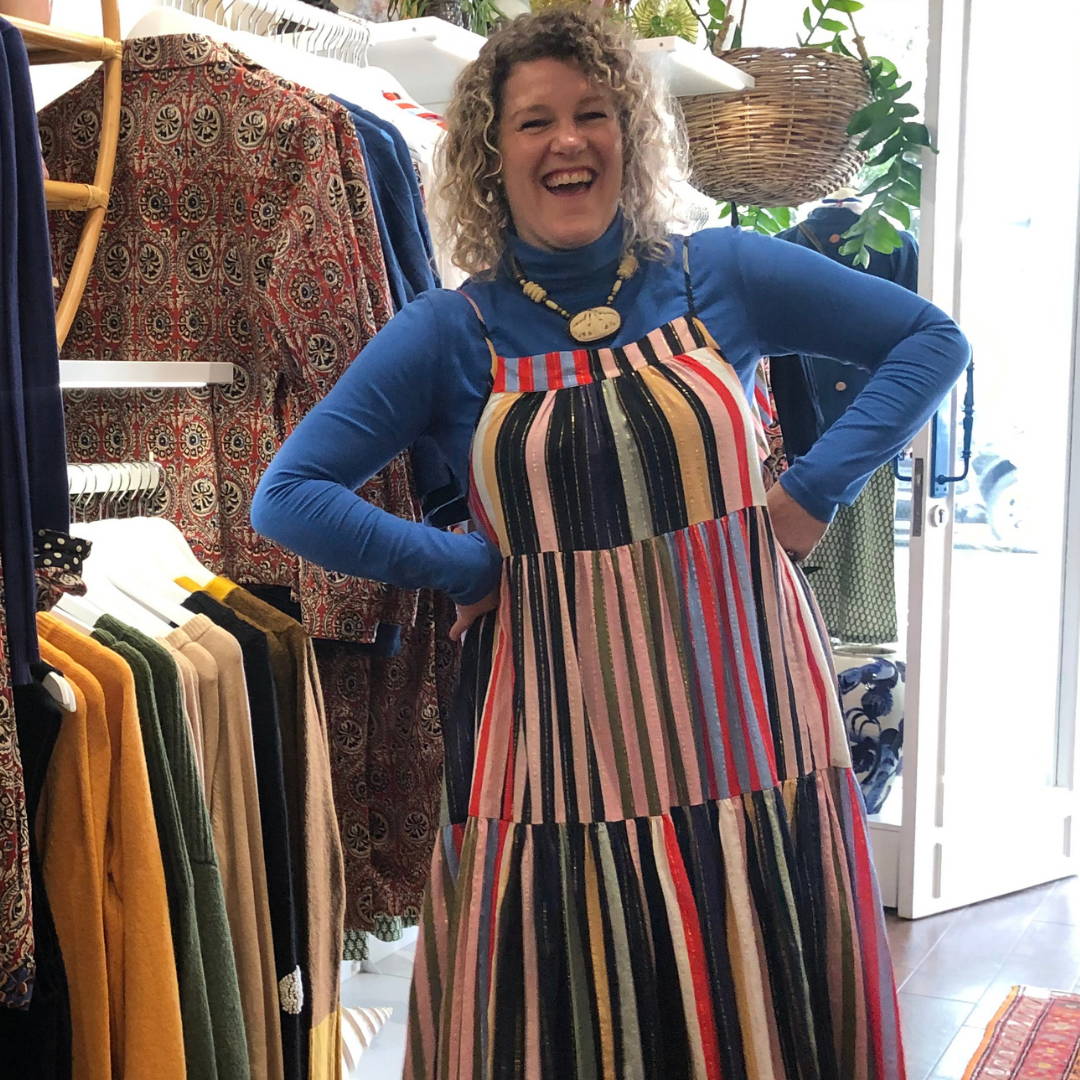 Colour was really the focus for Elise's outfit choice this time (above), with the beautiful colourful stripes of cotton and lurex of the Demi Dress in Manhattan and worn with a simple Boom Skivvy in Sky Blue. You could wear this outfit with some cute ankle boots or some chunkier style high boots. 
"I love how free this outfit is. The Demi dress is so lovely, with layers that fall really nicely and it's loose and ultra comfortable. The gold lurex fleck makes it a little bit fancy too. Plus who can't go past a skivvy in winter, especially for layering."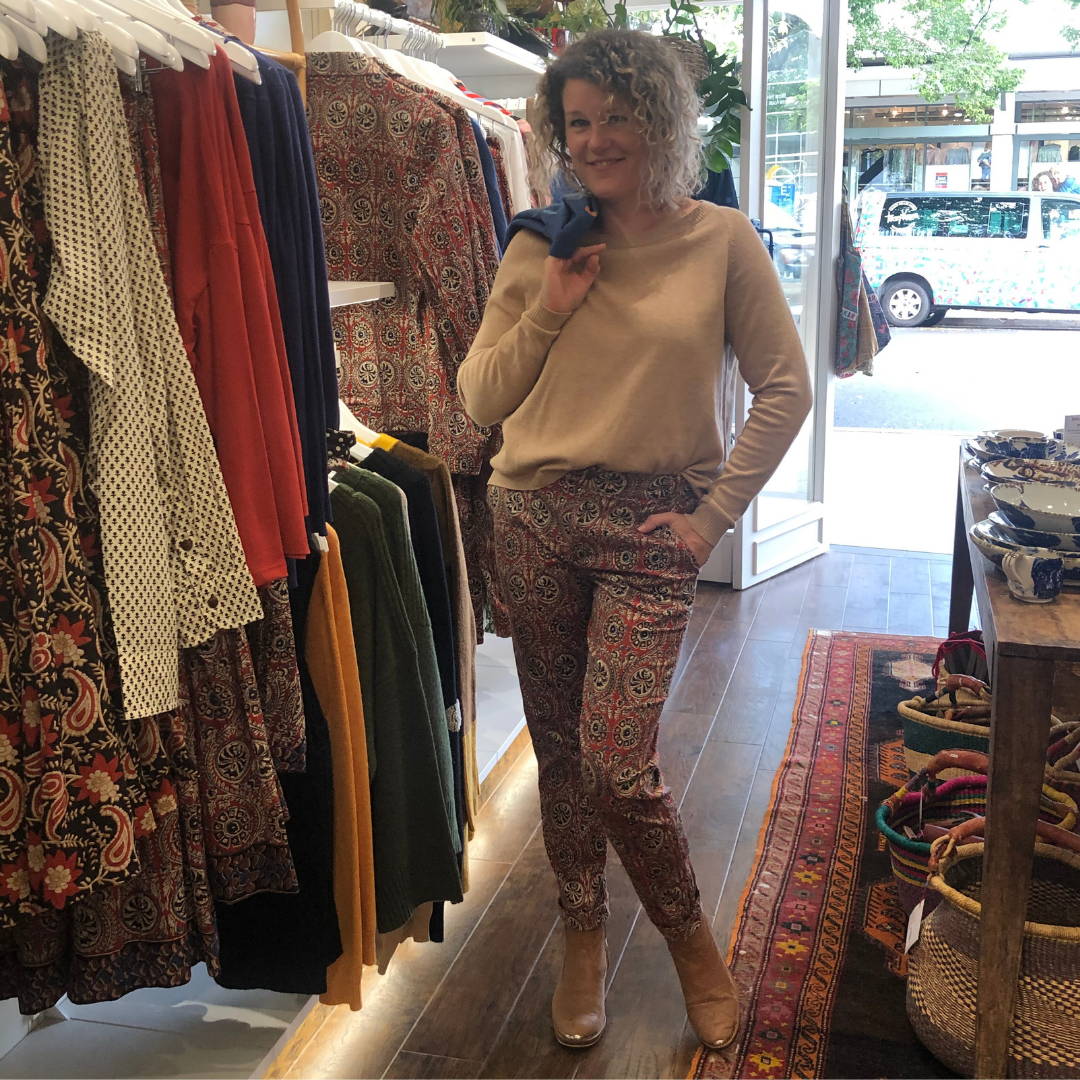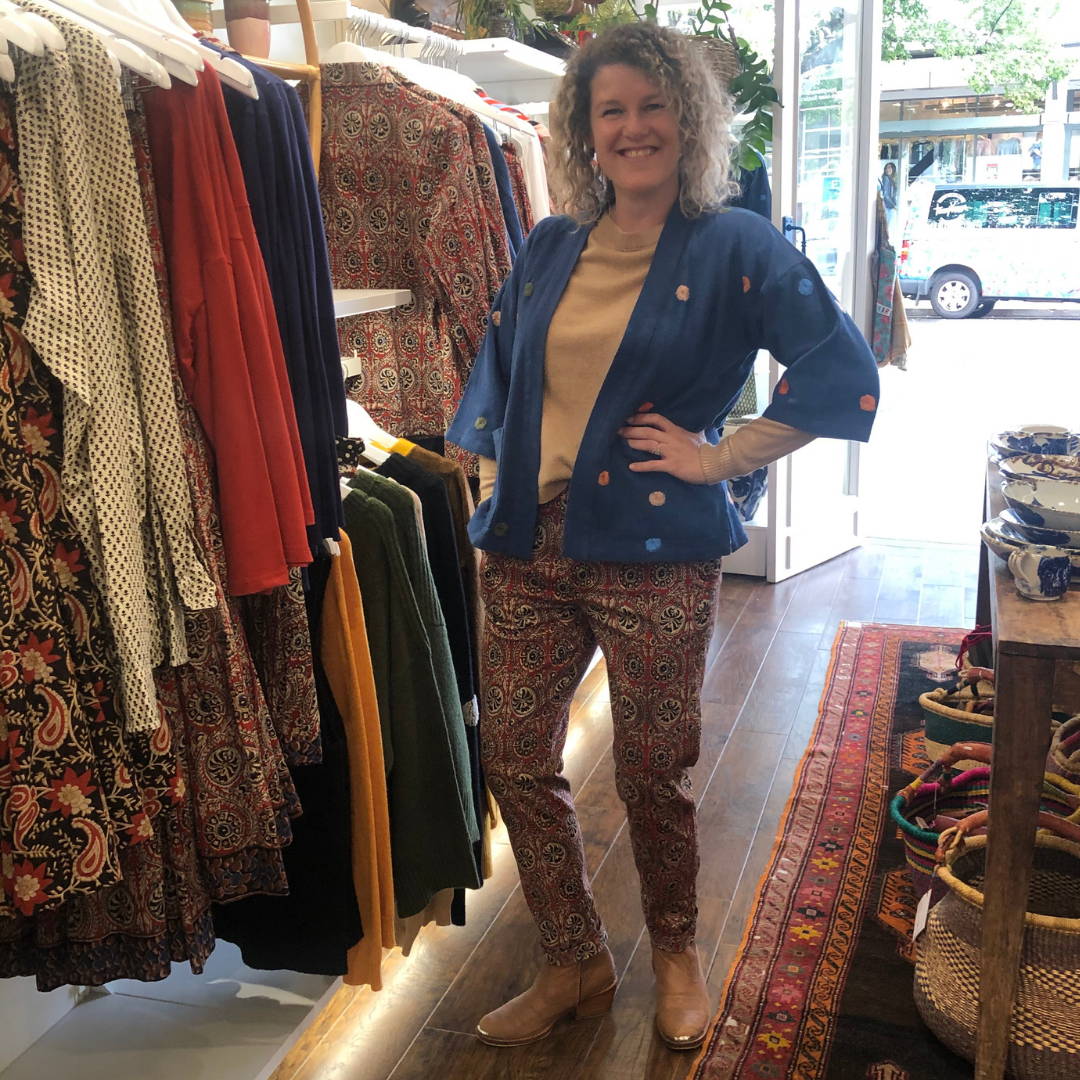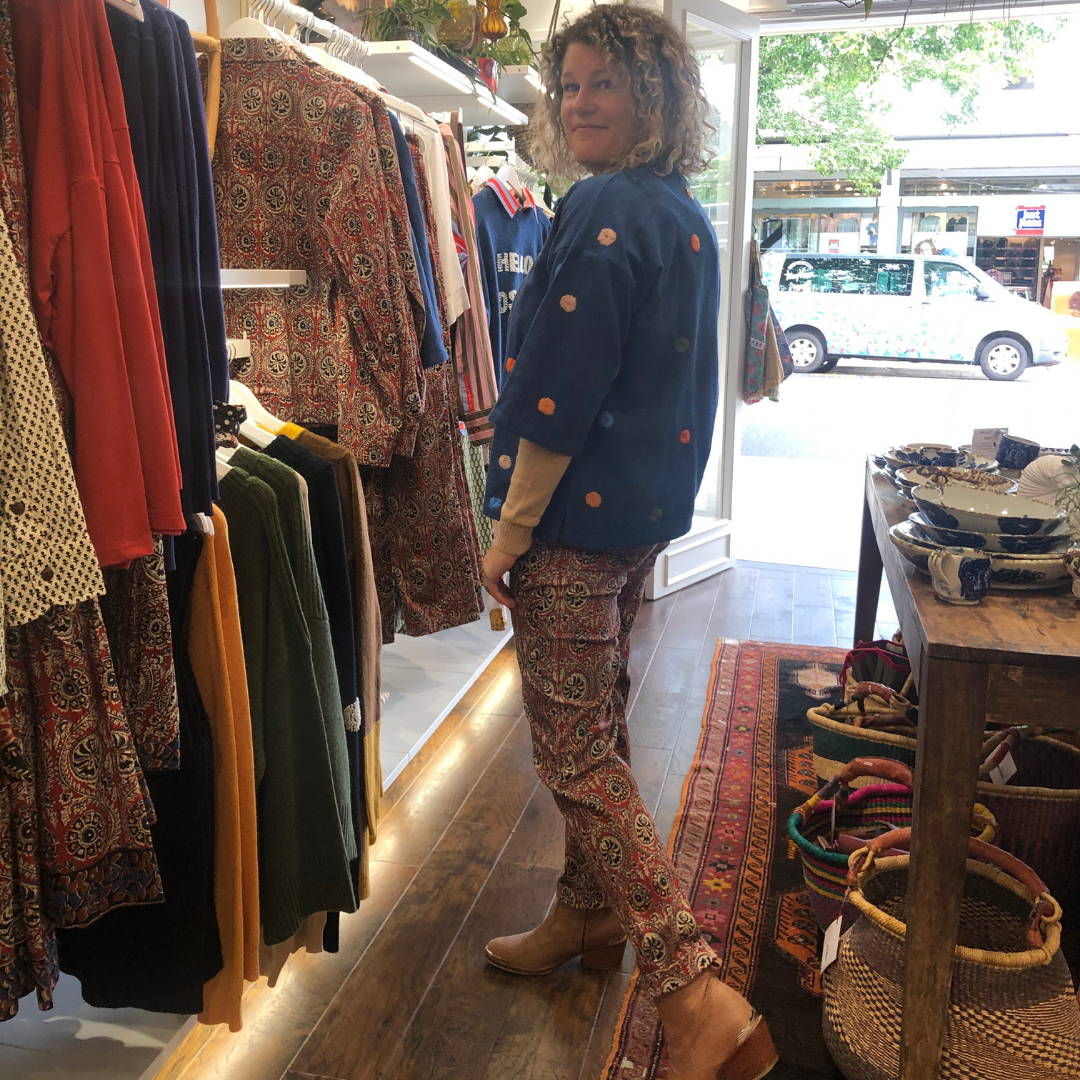 Style, comfort and a little fun is what Elise's going for with this fourth outfit (above) The simple classic colour of the cotton Elka Sweater in Fawn, with the Kensington Pants in Brooklyn, another fabulous block print design from our winter collection, and complimented with the hand embroided kimono style Dotti Jacket in Dots. You could walk out of the classroom and straight into a wine bar to meet friends with this outfit!
"OMG these pants are so comfortable they remind me of wearing track suit pants, but a lot more stylish! Haha! They have a little bit of stretch in them which is great at work (and always) but they still hold shape. I love the fawn sweater too as it's so soft, sits really well and has the same crop as the mustard sweater, so sits nicely on pants. Paired with the fun kimono style jacket with colourful dots is a winner. That's the part the kids will love the best!"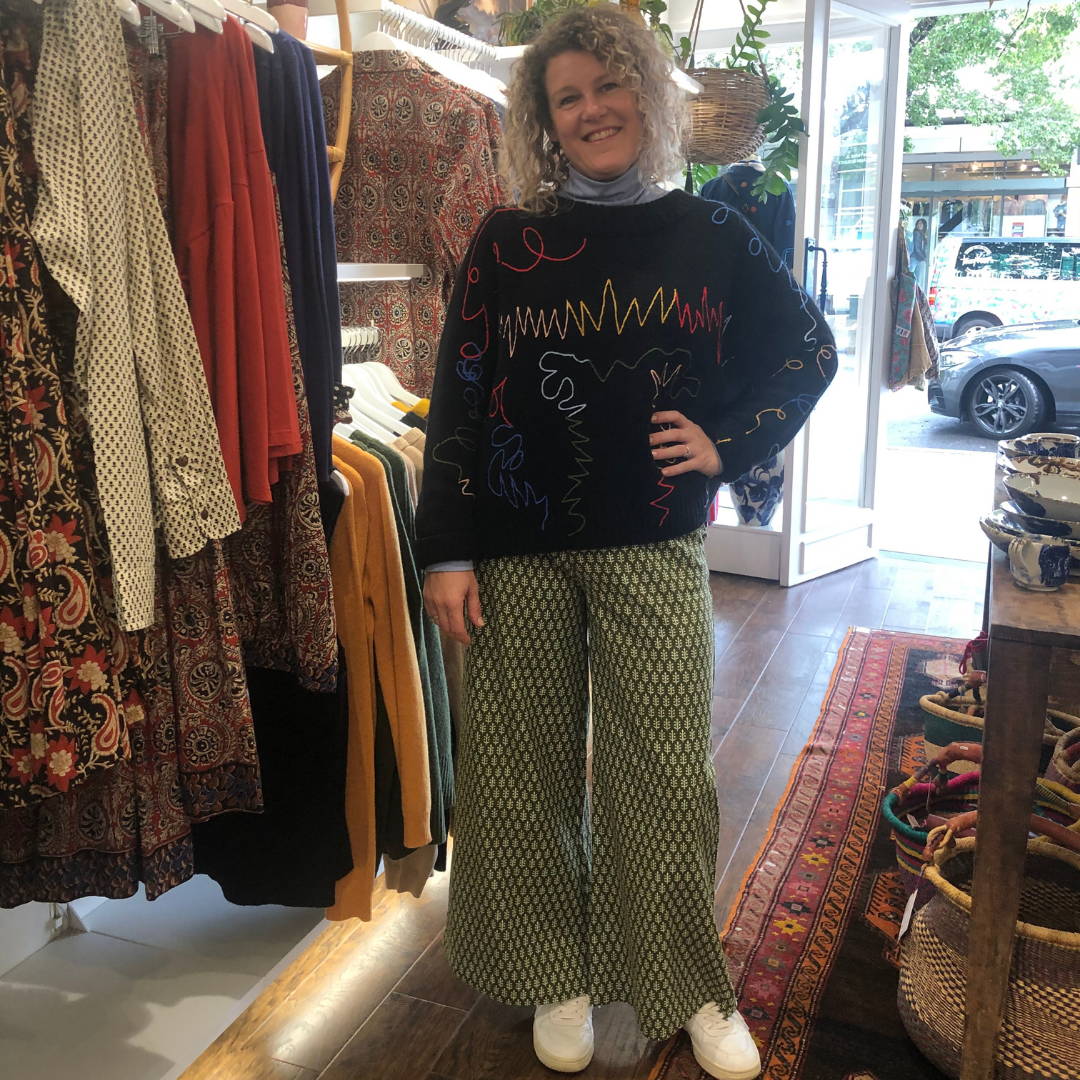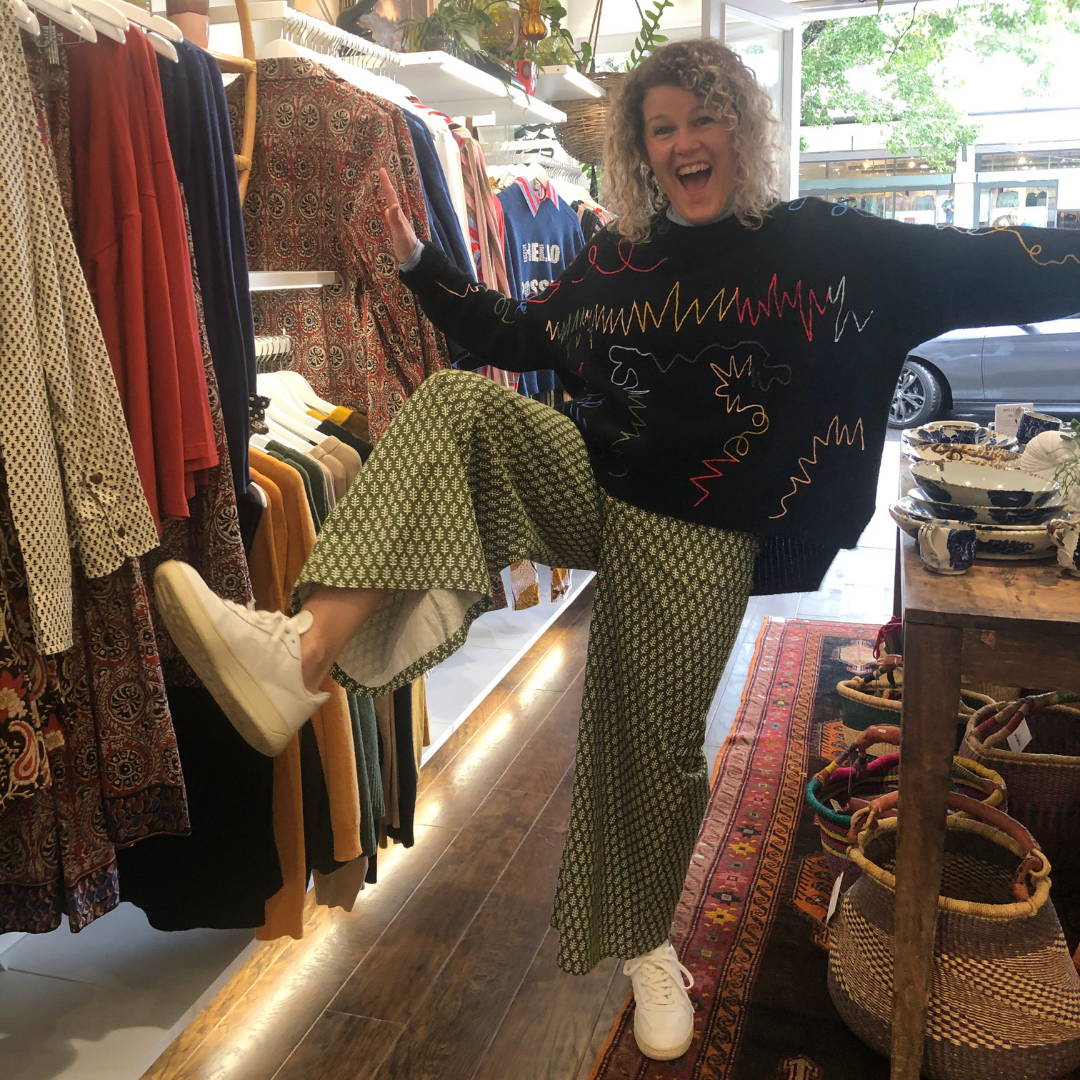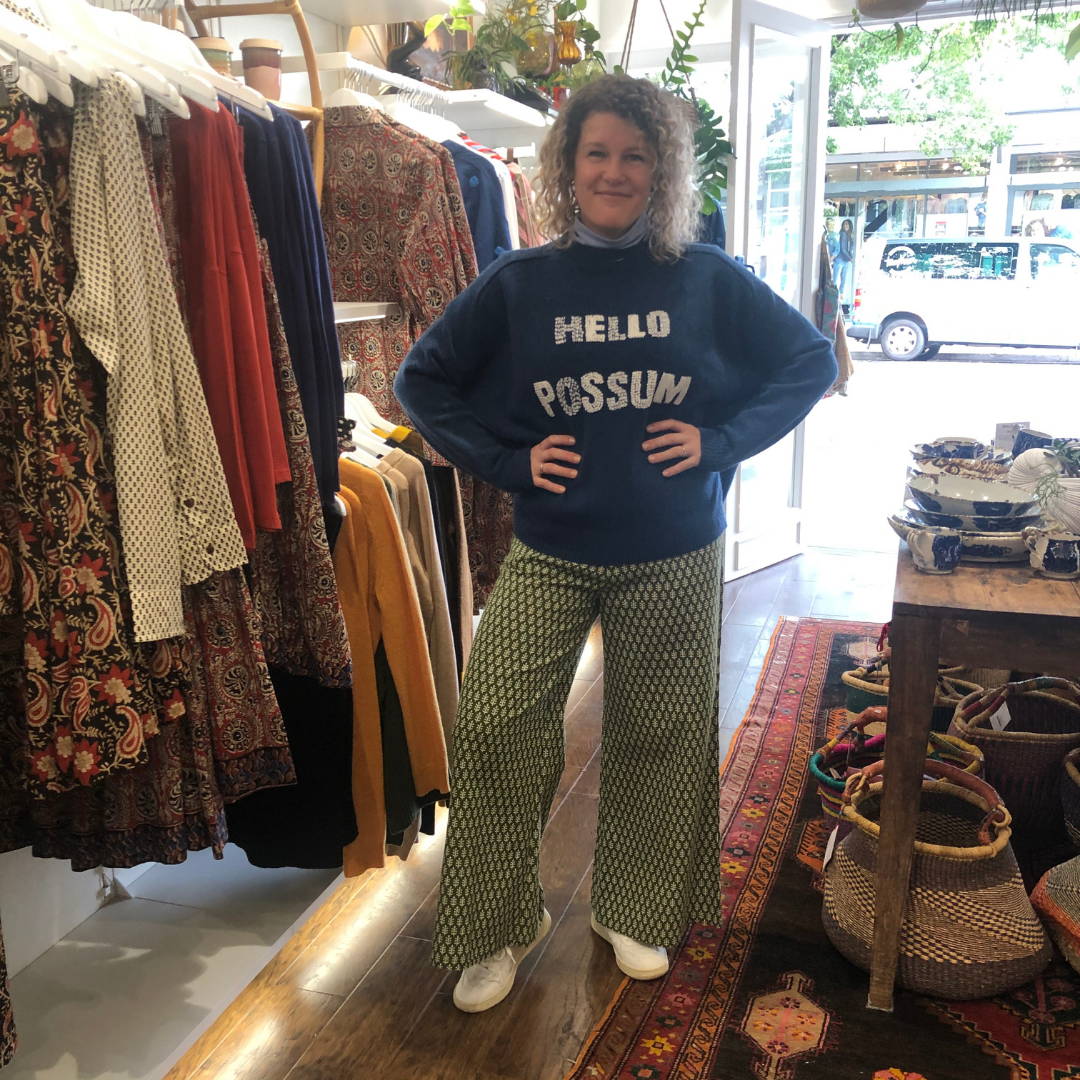 For Elise's final Boom classroom outfit (above) she's gone for the perfect cosy winter get up, with two different choices of jumpers. The fabulous block print cotton Kent Wide Leg Pants in Forest, with the organic cotton Boom Skivvy in Sky, worn with either the Squiggle Jumper in Black or the Hello Possum in Navy - both made of lambs wool and fun statement pieces.
"These pants are really nice to wear as they have wide legs (so airy) but a thicker style cotton, great for winter. Easy to wear with the skivvy and layered with my two favourite jumpers on top is so cosy. It's like having a big cuddle! The colours in the squiggle jumper are really fun and so are the shapes. You couldn't get a better match for an art teacher. And the Hello Possum is just iconic and takes me back to being a child… plus what a great thing Boom Shankar is doing for the wildlife! Everybody should get one!" 
So if you need a little help with your wardrobe styling, come visit us at our Hastings Street or Noosaville stores and our Boom girls can assist you, and style you up for all sorts of occasions! The world of colour and fun, is your oyster! 🌈
41 Hastings Street, Noosa Heads ~ Monday to Sunday ~ 9am to 5pm
47 Gateway Drive, Noosaville ~ Monday to Friday ~ 10am to 4pm